Tags
Related Posts
From Chapter 7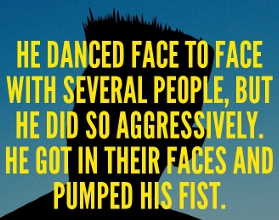 Catching a glimpse of himself in the mirror, he paused and examined his flat-topped curls.
"Sir," the barmaid said.
Henry touched the top of his hair, not hearing her.
"Sir," she said again.
"Oh. I was just … What?"
"I asked if I could get you something."
"Coke is good."
As the party and beats took on a quickened tempo, Henry's excitement grew. Once the dance floor had a half dozen people on it he stepped on to join them. He worked his unconventional dance style then quickly turned it into the Running Man. But it was an even wilder Running Man—the one he learned from Hammer. He went face to face with a black kid—slapping, pumping and twirling his hands. He threw his signature pelvis thrust and the crowd cheered him on.
After a long session on the floor, Henry took a break and leaned on the bar to catch his breath. And that's when he saw her again—the Fotomat girl—on the dance floor. She saw him, too, at the same moment. He stepped back on the floor and danced in front of her. She turned to him and moved with him. She examined him from top to bottom, his pants, his shirt, and his hair. She leaned toward him with interest. But when he clumsily poked his glasses back she stopped suddenly and walked away. Henry froze and had difficulty finding the beat, so he stopped and left the dance floor.
After getting a Coke, he spotted her near the bar with a bunch of friends, mostly Latin guys and girls. Henry slid along the bar, sneaking up next to them. Some of the guys soon left for the dance floor, leaving just the Fotomat girl and her friend standing there next to him. Henry moved even closer and tried to make eye contact. Her friend turned away from Henry, and at the same moment, when he thought the Fotomat girl was about to walk away also, she approached him.
"What's up?" he said, extending his hand to her.
She looked at it. "Listen. I'm not interested. Okay?"
Henry froze and looked down at his Coke as she walked away. Henry watched the ice bobbing in his Coke for several minutes then sipped it until it was gone.
"Can I get you another one?" the barmaid asked.
Henry looked at her without saying anything then turned his head down in embarrassment.
A new song with a heavy beat started playing.  As he was standing there, wallowing in embarrassment, the beat reached him. It shook his glass and jingled the ice. It penetrated his wallowing. He turned to the dance floor and saw the crowd going wild. Their joy suddenly angered him. He ran to the dance floor and grabbed the arm of a small white kid wearing overalls.
"That's not how you do it, weirdo," Henry said.
"What?" The kid was startled.
"Nothing." Henry shook his head. He started dancing. In one swift movement, he yanked his glasses from his face and put them in his pocket. First he danced the jump-and-pump and then the twirl-and-throw. Then, the Running Man came alive. He danced face to face with several people, but he did so aggressively. He got in their faces and pumped his fist. He twirled and hopped. And each time he went face to face, a circle started to form. But before the crowd could encircle him, he pulled away and moved on to a new person. Tension rose around Henry. A Latin boy in extraordinarily baggy pants stopped dancing and brought his girlfriend's attention to Henry.
Once Henry felt the tension rise to an almost explosive level, he turned inward. He stopped going head to head with others and then danced with himself. He kept his eyes closed and held his arms high. For the next hour, he danced that way. Neon Nights was crowded that night, but Henry was alone. He threw in one pelvis thrust after the next. He was slopped in sweat. When the lights came on, Henry walked for the door, ramming his shoulder into anybody that was in his way.